About Us
Unique Perspectives and Creative Solutions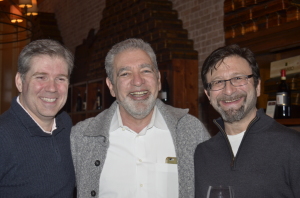 The company's principals possess over 100 years of collective experience, and have assembled a distinguished team of design and construction specialists with a depth of expertise in upscale, multi-family development.
The Pegasus Group is strongly committed to the communities in which it develops.  With a clear understanding of the unique needs and requirements of the existing neighborhoods and their residents, the company is adept at creating new developments that complement the architectural integrity and established makeup of the surrounding environment.
Richard A. Miller, Chief Executive Officer
In his role as Chief Executive Officer, Richard Miller is responsible for sourcing new opportunities, negotiating acquisitions, managing entitlements and community relations. Prior to founding Pegasus, Mr. Miller began his career developing and repositioning small multi-family projects on Manhattan's Upper West Side. Expanding on those successes, Mr. Miller sought opportunities in emerging markets and refocused his efforts in Hoboken, New Jersey. In the early 1990s and at the forefront of redevelopment in Hudson County, Mr. Miller developed the first market rate apartment building in Hoboken in over 20 years. Two decades later, Hoboken, a highly sought after transit-oriented market, has evolved from the least affluent to the most affluent community in Hudson County and Mr. Miller has redirected his energy to new development opportunities particularly in Harrison New Jersey.
Mr. Miller graduated from the University of Michigan Business School and later earned an MBA from New York University.
Michael E. Richman, Chief Operating Officer
Mr. Richman manages design, construction, marketing and property operations. Prior to founding Pegasus, Mr. Richman was responsible for the conception, development and implementation of portfolio-wide building management systems; financial analyses; partnership and lease negotiations; and dispositions at Hines Properties.
Several of Mr. Richman's projects have won awards for excellence. In 1990 his marketing work was acknowledged by the New York Real Estate Journal; in 1993, his team won the BOMA Building of the Year Award; and while with Pegasus, he led the efforts that won the NJASLA Chapter Award. A member of the Urban Land Institute, The New Jersey Apartment Association and the National Brownfields Association, Mr. Richman, graduated Hamilton College with a BA and later earned an MS/MBA from Regent's College in London and Boston University.
Edward Kohler, Chief Financial Officer
As Chief Financial Officer, Edward Kohler manages the firm's debt and equity originations, financial reporting, risk management, human resources and corporate administration. Prior to joining joined Pegasus in 2006, Mr. Kohler was the Chief Financial Officer for Parkway Corporation, a developer, owner and operator of parking facilities and commercial real estate assets in the US and Canada. Mr. Kohler was also a project executive for affiliates of Carol Management Corporation (the parent of Doral Hotels and Resorts) where he was exposed to the planning, development and finance of residential, office, hospitality and golf course properties.
Mr. Kohler has closed billions of dollars in transactions, including institutional equity investments, public bond issues, tax increment financings, loan workouts and conventional debt. Mr. Kohler earned a BS in Chemical Engineering from the Massachusetts Institute of Technology.